On Friday 23 December 2022, a 69 year old man opened fire on the Kurdish Ahmet Kaya Cultural Center in Paris, before turning his gun on a Kurdish owned restaurant and barbershop. Only last year he was imprisoned after attacking people sleeping rough in a migrant camp with a sword. He was released last week. With 9 shots he murdered three people and injured three more. He is now in police custody. Again. 
This deadly attack in the heart of Europe is the latest  assault on the Kurdish people, who face constant violence and repression both in their homeland and abroad. It is a direct result of the the hostile environment refugees face in France and of  the collaboration between the French, Turkish and other European states.
Once again, the French state has blood on their hands. Just a few streets away in Paris almost 10 years ago, on 9 January 2013, an agent of the Turkish secret service MIT murdered three revolutionary Kurdish women – the activist and writer Sakine Cansiz, Fidan Dogan and Leyla Saylemez. The French state has made no arrests. No investigations. No justice.
Now, shortly before the anniversary of the massacre, there is another bloodbath. 
The state's blame is clear in their response to the attack. Macron and the Mayor of Paris feign solidarity and sadness with Kurdish people in France. Ministers promise police to protect Kurdish community sites. Then their police turn around and attack the Kurdish people, and their allies, protesting the killings in Paris and Marseille. Beating them back with tear gas, shields, and batons. This is what "secruity" and "protection" looks like. As always, the State expresses solidarity and compassion for the people with one hand, while crushing them with the other.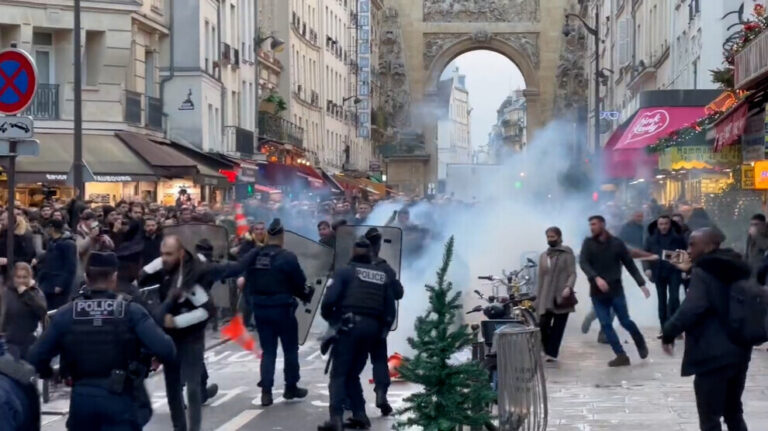 This attack reminds us that Western states are every bit as complicit as the Turkish state in repressing those who are fighting for a free world built on the principles of ecology, radical democracy, and gender liberation. 
The Turkish state wants the world to agree with its propaganda – namely, that which paints the Kurdish Freedom Movement as terrorists. Kurdish political representatives face constant arrest, repression, intimidation and violence across Europe, from attacks by fascist street gangs controlled by the Erdogan regime to deportation to suffer brutalisation in Turkish jails. Turkey uses its status as a NATO power to secure the complicity and silence of Western states, who actively work with Turkey to suppress the Kurds' call for democracy, freedom and fundamental rights.
We, as internationalists, will not let these attacks go unanswered! With Christmas coming up, we call on all those in England, Wales, Scotland and the island of Ireland who believe in the Kurdistan Freedom Movement's vision to mobilise; to come together and support one another. We will show our love for our friends in Paris, that we share their grief, share their pain, and share their rage.
Millions of people around the world have been inspired and moved to action by the Rojava Revolution – now is the time to defend the women's revolution!
Kurdistan Solidarity Network  &  KSN-Jin autonomous women's structure
#DefendTheWomensRevolution  #DefendKurdistan  #SmashTurkishFascism