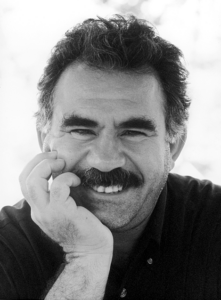 Abdullah Öcalan, also known as Apo (Uncle in Kurdish, as well as an abbreviated form of Abdullah) is a key figure in the development of the worldwide Kurdistan Freedom Movement. Öcalan was one of the original founders of the Kurdistan Workers' Party (PKK) in 1978. This was during a period of intense repression within Turkey, of Kurds and other minority groups, and the PKK was originally formed as a militant group organised around a Marxist–Leninist philosophy and has spent decades engaging in armed struggle against the Turkish state.
Öcalan co-ordinated the actions of the PKK from Syria until his expulsion in 1998. On 15 February 1999, Öcalan was captured in Kenya by Turkish intelligence agents (aided by the CIA) and brought back to Turkey. Initially sentenced to death, this was commuted to life imprisonment as part of Turkey's attempts to enter the EU. Since his capture, Öcalan has been held on the island prison of İmralı, for many years the sole prisoner there.
During his incarceration, Öcalan called a unilateral ceasefire for the PKK, and instead advocated for a peaceful solution. He built on the ideological evolution that had been taking place over the past decade within the movement, and further developed the theory of Democratic Confederalism. This included formally abandoning the objective of establishing an independent Kurdish state, having realised that statehood itself embodies a relationship of domination and is the root of many of the problems facing the people of Kurdistan. Though Öcalan has been integral to the brokering of several ceasefires between the PKK and Turkey over the years, these have all been breached by the Turkish state, and the situation appears to be intractable for as long as Öcalan remains in prison.
In the West, Öcalan is regarded by many as a 21st-century Nelson Mandela. Öcalan is a political prisoner, unjustly held in solitary conditions that amount to torture. He is also the key to a peaceful resolution to the Kurdish problem, and a hugely respected figure within the Kurdish population worldwide, as well as the ideological leader of the Kurdistan Freedom Movement. You can find out more about the campaign to free Öcalan here, or find out more about Öcalan here.
---
Related Posts