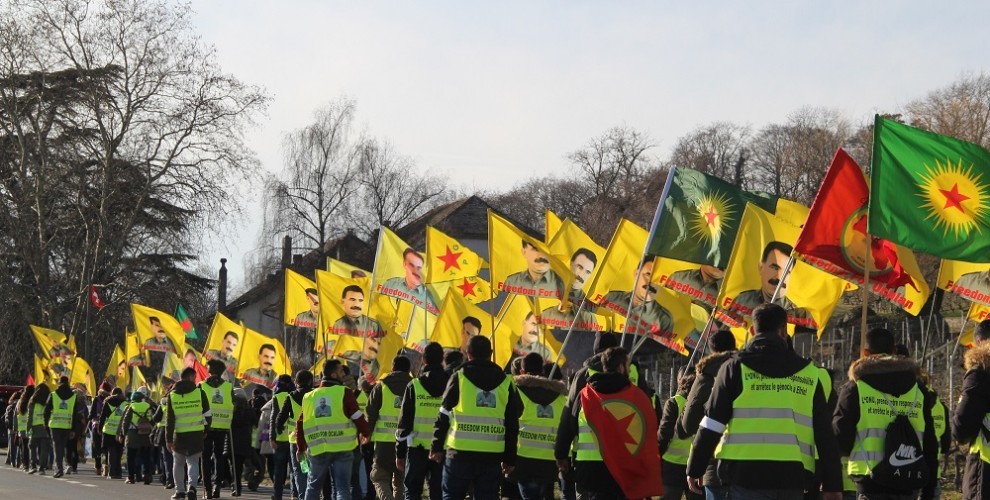 Invitation for the long march "For Peace and Democracy – Freedom for Abdullah Öcalan" towards Strasbourg from 10th to 16th of February 2019
Since the Long March last year, we have taken further steps in our struggle for a free society beyond state, power and violence. The Kurdish freedom movement with its social perspective of women's liberation, grassroots structures and social ecology gains increasingly attraction . The resistance against repression and war is growing and internationalizing itself.
Not only in Kurdistan and the Middle East, the Kurdish freedom movement brings together the most diverse freedom-loving people against the divide-and-rule policy. The implementation of democratic confederalism in northern Syria beyond Rojava shows people around the world that another world is possible! The hope has returned.
That is why we want to unite against the reactionary forces of capitalist modernity and set visible signs against increasing patriarchal and capitalist brutalization and repression.
For this reason, we would like to invite you to our Long March from Luxembourg towards Strasbourg between 11 and 16 February 2019. We ask all participants to come to the kick-off event on the 10 of February in Saarbrücken. At the end, a lively and noisy mass demonstration will take place in Strasbourg this year once again.
With our march we want to draw attention to the situation in Kurdistan and to the situation of Abdullah Öcalan. In 2019, Abdullah Öcalan has been held in total isolation for 20 years. The intent is to discredit his personality while keeping his ideas out of the public eye. Since April 2015, Turkey prevents any contact with him. In Germany, images of Abdullah Öcalan may only be shown if it is explicitly only about his health situation. This is a presumptuous depoliticization of Abdullah Öcalan's life's work, which has laid the foundation for the advancement of the liberation movement, which is attracting increasing interest everywhere in the world. We want to show on this long march and at the big demonstration that we do not accept this!
For a solution of the political conflicts in Turkey, Iraq and Syria, the freedom of Abdullah Öcalan is indispensable. Especially for the Kurdish women's movement, the work of Abdullah Öcalan is essential. The Kurdish people, especially the women, has managed to regain their own identity and history. The establishment of self-governance in Rojava, which represents a democratic alternative to state power and guarantees the freedom of women, would not be possible without the dedication and the philosophy of Abdullah Öcalan.
During our march we will organize rallies, seminars and various encounters. The march also calls on the European Commission and the Council of Europe's Anti-torture Committee (CPT) to live up to their responsibilities. All groups working for democracy, freedom, justice, peace and human rights are called to participate in the march or to send solidarity messages. Last year, people from all over the world participated and got to know each other: from South America, from the European countries from Scandinavia to Spain / Catalonia / Euskadi, from the so-called Middle East … an internationalist freedom march.
People interested can contact longmarch2019[at]protonmail.com
We look forward to receive information about your opportunities to participate in the march. As soon as we receive your answer, we will send you more information, exact dates and a preliminary program.
Quick Facts:
Gathering and kick-off event on 10 February 10 in Saarbrücken, Germany

Long March from 11 to 16 February 2019 from Luxembourg to Strasbourg

16 February Mass demonstration in Strasbourg


Sports shoes are suitable for the march. Sleeping bags should be brought.
http://longmarch.freeocalan.org/