Why Kurdish solidarity activists must oppose the DSEI arms fair
"Every bomb that is dropped, every bullet that is fired in the name of this war of terror, has to be made somewhere. And wherever that is, it can be resisted." – Campaign group Smash EDO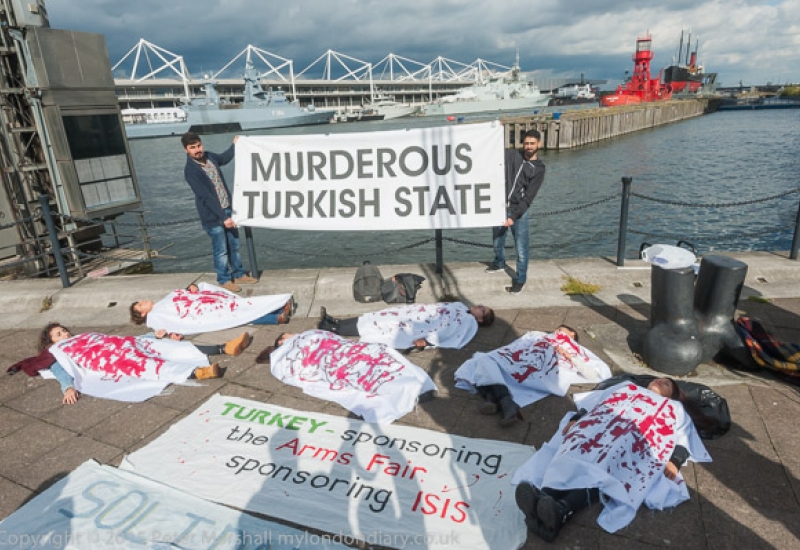 The war in Kurdistan starts in London
Every two years, the Excel Centre at London Docklands hosts the world's biggest arms fair, showcasing military and surveillance equipment and technology for air, land, sea and cyberspace. Many of the world's most oppressive regimes, including Turkey, go there to make deals which ultimately cost hundreds of thousands of lives.
DSEI (Defence & Security Equipment International), known to protesters as "dicey", last took place in September 2015, and featured 1,500 arms exhibitors from around 40 different countries, exhibiting everything from sniper rifles, missiles and tanks to fighter jets, helicopters and warships to riot control equipment and surveillance technology.
The next DSEI will be from 12-15 September this year. The official event website invites you to, "Attend DSEI 2017 to develop relationships with an audience of over 34,000 including Defence Ministers, International Military and Armed Forces, key industry players and private sector companies." This will of course include a large contingent from Turkey, which has sent a delegation to every DSEI since at least 2003, but probably since the first event.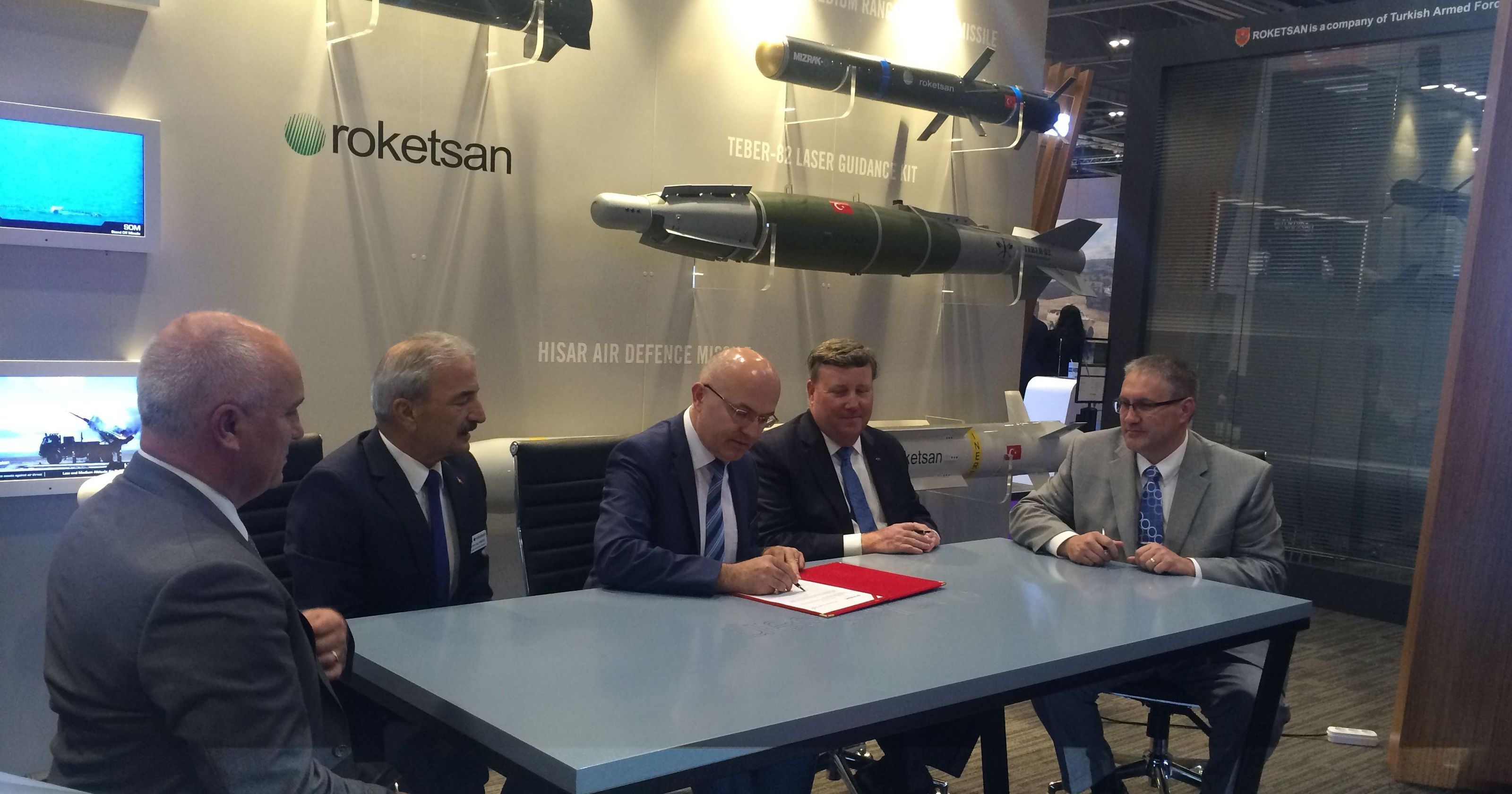 Turkey was the sole "international partner" of DSEI 2015, which took place in September of that year, while Kurdish civilians were being massacred in cities like Cizre. During the event, weapons maker Roketsan, which is part of the Turkish Armed Forces, signed a contract with Lockheed Martin, the largest arms company in the world, to develop a new F-35 fighter jet missile for the United States armed forces. Since then, Turkey has gone into partnership with BAE Systems to develop a new generation of fighter jets.  Turkish-owned arms company Nurol has also gone into partnership with BAE Systems – the third largest arms company in the world – on an aerospace programme. After its "success" at DSEI 2015, Turkey has asked for its space at the event to be expanded by 200 square metres for 2017.Britain and other Western countries have always been ready to sell weapons to Turkey and other authoritarian regimes. The precursor to DSEI, before it became a privatised event, was the government-owned British Army Equipment Exhibition. Despite having been at war with Iran for almost six years, a delegation from Iraq attended in 1986 at the invitation of the British government, just two years before Sadam Hussein dropped chemical weapons on Halabja, massacring many thousands of civilians.
In January 2017 it was widely reported that the British government sold £100 million of fighter jets to Turkey, at a time when the country was sliding into full dictatorship. British-owned defence giant BAE Systems signed the £100 million deal with Turkish Aerospace Industries (TAI), however this will essentially be a government to government deal. Fighter jets will be designed with the expertise of BAE, but on Turkish soil. BAE has been in competition with Airbus and Saab for this deal and Turkey has been using the competitive environment as leverage to insist on full technology transfer, including access to all source codes, software and communications systems, as well as having Turkish engineers and scientists directly working on the project. This would enable Turkey to  develop the technology autonomously in the future.
On 14th July, Turkey signed an agreement on missile development with Italy and France. The agreement was announced by Turkish Defence Minister Fikri Işık, who described the agreement as one of most concrete developments for Turkey in the NATO alliance. Turkish agencies will work to produce missile systems with Eurosam, an Italian and French consortium for the military production of naval and aerospace missiles. It is 66% owned by MBDA (33% France – 33% Italy) and another 33% by Thales group.
This year, 69 companies that have applied for military exports to Turkey will attend the DSEI arms fair, including BAE Systems; Lockheed Martin; MBDA; Thales; General Dynamics, who sell Turkey smart bombs, and Northrop Grumman, who boast that they are "contributing to a variety of Turkey's defence capabilities and programmes." The value of known UK export licences for military equipment to Turkey from July 2013 to June 2016 was £466 million.
Building a reputation
Turkey doesn't only buy weapons at DSEI, it also wants to build its reputation as an arms seller.
Turkish plans for domination have been frustrated on a number of occasions, such as when the USA imposed an arms embargo on after the 1974 invasion of northern Cyprus. President Erdoğan has said that his goal is, "To completely rid our defence industry of foreign dependency by 2023″. In order to make this viable, Turkey will need to become increasingly reliant on arms exports, rather than arms imports. Erdoğan is aiming for $25 billion in annual exports by 2023, Turkey's 100th birthday.
How far this is going to plan is a matter of some debate, with statistics varying wildly in reports and a flurry of fake news from Turkish state media. However, Turkey is now producing its own planes, ships, tanks and now armed drones, usually in partnership with some of the world's leading military companies.
In January 2015 Prime Minister Ahmet Davutoğlu said, "Now we have a Turkey that won't bow to others with its own national defence industry. This is the new Turkey."
"We're making products better than most in the West," boasted Faik Eken, General Director of Aselsan, Turkey's biggest defence firm, "We're cheaper … We're ready to share technology. The Turkish defence industry can be a valid alternative to the West."
Turkish companies at DSEI 2017
At least six Turkish arms companies will be in attendance at DSEI 2017.
Aselsan is a part of the Turkish Armed Forces Foundation. It is now one of the world's 100 largest arms companies and its rank on that list is rising. They make communication & Information Technologies; Microelectronics, Guidance & Electro-Optics; Radar & Electronic Warfare Systems; Defense Systems Technologies; Transportation, Security, Energy & Automation Systems.
Roketsan recently made their first batch of 120km Surface to Surface Guided Missile and Weapon Systems and have already signed and agreement with Lockheed Martin for development. They have also recently made deals with Airbus Defence and Space; with Raytheon to make guided missiles, and with Coorstek to produce armour. They are also working on armed drone technology.
MKEK have been the main suppliers of the Turkish Armed Forces, "under various names", since its establishment (MKEK website). They manufacture small arms, mortars, artillery, ammunition, rockets, aircraft bombs, grenades and pyrotechnics, including tear gas.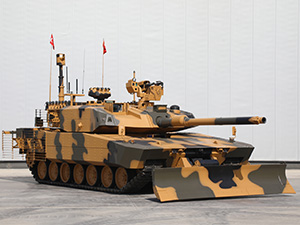 Otokar are the main supplier of the Turkish military for 4×4 vehicles. Their armoured vehicles have been used in the military occupation of Kurdish cities, such as Amed (Diyarbakir), and also to transport prisoners. They have recently designed a brand new tank, the ALTAY-AHT Urban Operations Tank, specifically designed for "asymmetrical combat environment" —which basically means a war against a non-standard army, or people who don't have an army, such as a resistance movement.
BMC produce vehicles, including buses, trucks and military vehicles. They boast about their defence industry products here, saying, "Thanks to its advanced technology and vast experience in the defence industry, BMC primarily aims at compensating for the demands of the Turkish Armed Forces together with the armies all around the world".
Nurol Holding work on construction, finance, tourism, energy, trade, defence and manufacturing in over 35 subsidiary companies. They produce water cannons used to control people during protests and military occupations of cities. They work on defence under the name BNA, in partnership with BAE Systems (51% Nurol Holding, 49% BAE Systems Inc.). They also joint own FNSS Defence Systems with BAE (51% Nurol Holding, 49% BAE Systems Inc.) FNSS is a leading manufacturer and supplier of tracked and wheeled armoured combat vehicles and weapon systems for the Turkish Armed Forces and Allied Armed Forces." Nurol's sales jumped from $5 million in 2012 to nearly $100 million in 2016. Aside from defence, Nurol is also active in various other lines of business, such as road construction and tourism. It owns, among many other things, the Lugal and Sheraton Hotels in Ankara, as well as the Sheraton in Batumi, in neighbouring Georgia. It also owns the Bodrum Oasis shopping centre, where they host art exhibitions and children's films in the cinema and Club Salima, a 5 star Holiday Village in Antalya. This shows how much tourist dollars in Turkey are flowing towards the war.
Resistance is fertile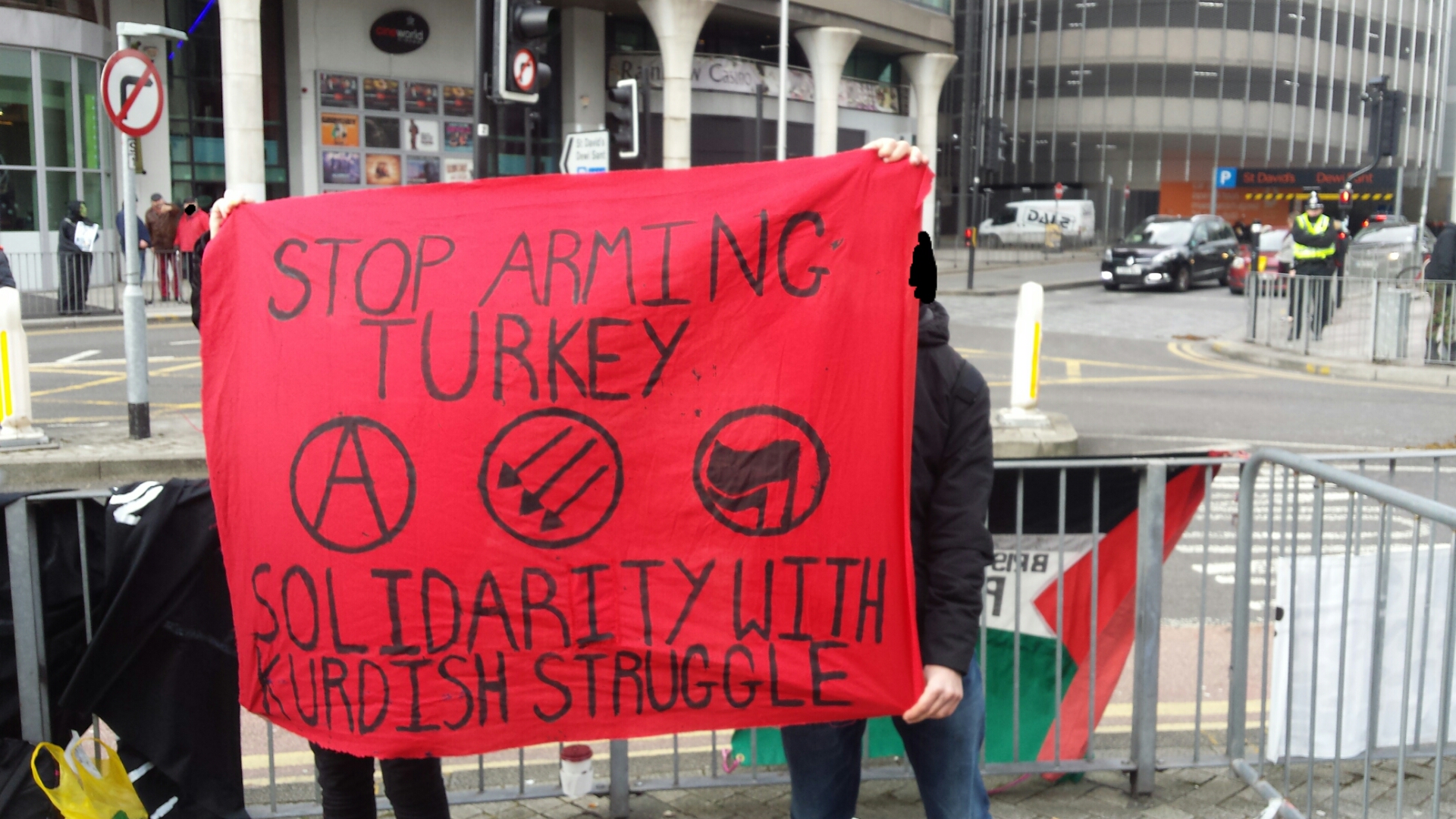 There has been grass-roots campaigning and direct action in resistance to the DSEI arms fair since the first event in 1999. Actions have varied from demonstrations and road blockades to creative stunts.
In 2015, hundreds of people took part in a huge week of action to stop the set up of the arms fair – the biggest ever protests against DSEI. For six days people blocked entrances, disrupting the set-up of the fair. The Kurdish community took a stand as part of this, holding a demonstration outside DSEI, drawing the links between the Turkish state's sponsorship of the arms fair and its sponsorship of ISIS. Kurds also joined in one of the days of blockading in the week that DSEI was being set up.
That same year, a group of eight activists of different nationalities were taken to court and charged with "wilful obstruction of a highway" after they blockaded the gates to the building where DSEI was taking place. British activist Lucy Baker gave a political defence, saying that she was acting to stop war crimes from happening in Kurdistan. Other people on trial gave similar defences in relation to Palestine, Yemen and Bahrain.
Lucy and some friends had closed the gate of the road leading to the back entrance of the ExCel Centre, where DSEI was being set up. She locked herself to the closed gate with a bicycle D-lock around her neck, so that no equipment could enter the building through that gate.
In her testimony, Lucy said in court that she had met people whose relatives were killed by the state of Turkey. "During the arms fair, the state had put a 24-hour curfew on Cizre. Anyone who went out on streets was shot and killed. There was clear professional opinion that Turkey was in breach of international law." "The Turkish delegation does deal with DSEI and the arms bought there were used on Kurdish civilians." "I was aiming at preventing crimes in Turkey. I believe that in the DSEI arms fair which we were trying to stop there were crimes being committed in relation to the sale of weapons."
In giving his verdict, District Judge Angus Hamilton said the court had been presented with clear, credible and largely unchallenged evidence that criminal wrongdoing goes on at DSEI exhibitions, involving the sale of arms to countries which used them against civilian populations, as well as the sale of illegal items such as cluster munitions and torture equipment. He also said there was ample evidence that such criminal activities are not being properly investigated or prosecuted. All of the charges against the defendants were dismissed.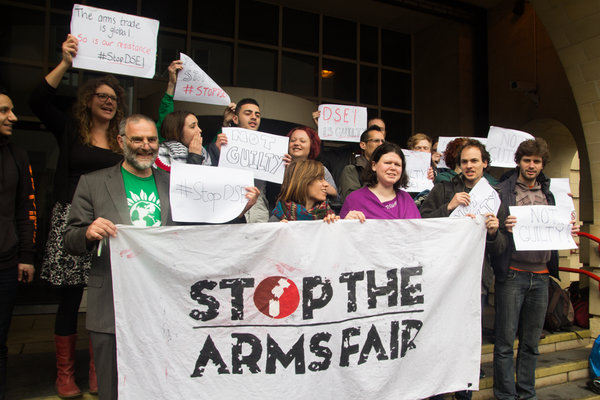 However, The Crown Prosecution Service applied directly to the High Court seeking a judicial review of the activists' acquittal, and in July 2017 the High Court overturned Judge Hamilton's decision. Nevertheless, it ruled that in the interests of justice, none of the activists would be re-tried or face costs. In a group statement released on the day the judgement was handed down, the activists said: "We remain wholeheartedly unrepentant for seeking to shut down the DSEI arms fair. In circumstances where the state cannot be relied upon to prevent war crimes – and particularly where it is fully complicit in them – it is up to each of us as individuals to act.
When asked what she would tell people thinking about taking action against DSEI in 2017, Lucy said: "It's our responsibility to act. We need to stand up in solidarity with our comrades in Kurdistan. We need to attempt to shut down the arms fair: the place where war begins. If there's enough people on the streets, we can prevent DSEI from happening.
The weapons Turkey is using on Afrîn and the people of Bakur are being supplied by international arms companies and new deals are likely to be made at DSEI 2017. the arms fair is an important event for the Turkish government and the Turkish military. Activists have a chance to embarrass the Turkish delegates in their visit to London and to highlight Turkey's role in oppressing the Kurdish people and its attempts to undermine both the revolution in Rojava and democratic autonomy in Bakur. Activists also have a chance of shutting down the arms fair, therefore stopping war right where it begins."
DSEI 2017: The Plan
DSEI 2017 will take place from 12-15 September at ExCel, a huge exhibition centre in London Docklands. Like last year, activist groups will try to stop the arms fair from setting up with a week of action before arms dealers and equipment actually arrive. This is to hinder the weapons—tanks, drones, guns, even warships—from getting into the ExCel Centre. There are different themes for each day of action from 4-8 September, and then one big day of action on Saturday 9.
Campaign Against Arms Trade (CAAT) are holding a big two-day training event in London on 22 and 23 July called It Starts Here. Other planning and training events will be happening around the country in the run up to DSEI 2017. See the calendar at Stop the Arms Fair for details.
Kat Hobbs of CAAT says, "It's a scandal and a shame that UK weapons are being used against the Kurdish people in their struggle for autonomy. We stand in solidarity with Kurdish people as they seek self-determination, and hope that we can work together to take action against the Turkish military presence at DSEI and the UK arms exports which are fuelling the repression.
There can be a heavy police presence at DSEI. it's important that people know their rights when stopped and searched or arrested. You can get legal info from the activist Legal Defence and Monitoring Group or Green and Black Cross.
---
By Sara Woods of Shoal Collective, a cooperative of independent writers and researchers, writing for social justice and a world beyond capitalism.