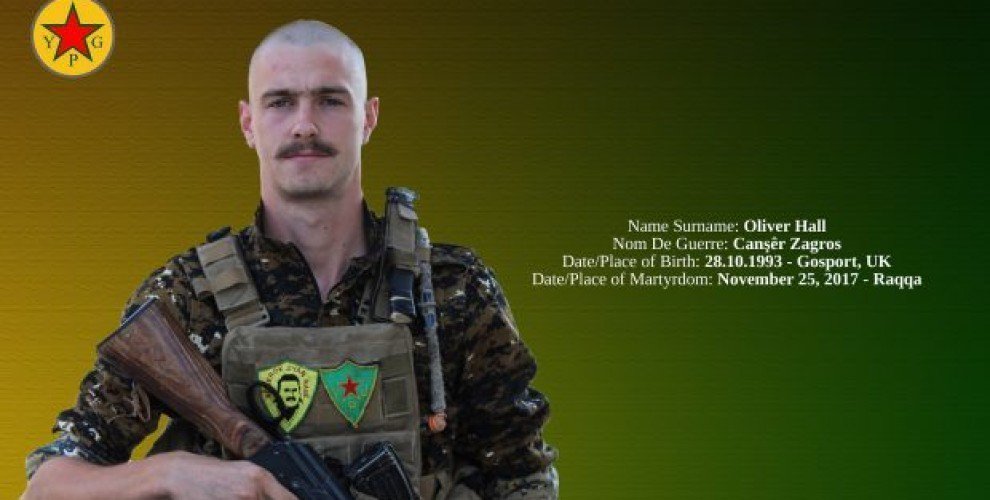 Source: ANF
Oliver Hall, nom de guerre Canşêr Zagros, was killed in a blast during mine clearing operations in Raqqa on November 25.
[youtube https://www.youtube.com/watch?v=oZbo4c96Iv8?rel=0&showinfo=0]
"On November 25th, 2017, Canşêr Zagros (Oliver Hall), who was involved in mine clearance work, martyred as he was trying to defuse a booby-trap" YPG said in a statement.
"Comrade Canşêr Zagros, who joined the ranks of YPG from the United Kingdom during the Raqqa Campaign, actively took part in various fields. Like many other internationalist comrades who made ultimate sacrifice, Comrade Canşêr had been trying to fulfill his duties and responsibilities for months and did a great work" YPG statement read.
Oliver Hall (24), from the Portsmouth area, was fighting against ISIS since August 2017. He is the fourth British fighter to have been killed in Raqqa since July.
A statement from the Kurdish Solidarity Campaign in the UK said: "Our deepest sympathies are with the family and friends of Ollie Hall at this time.