Kurdish Com
munity Organisations in UK and Kurdistan Solidarity Campaign have called a Solidarity Hunger Strike opposite 10 Downing Street from 12:00 Noon on 11 April 2017 to draw attention to critical stage of hunger st
srike in Turkey now entering Day 56.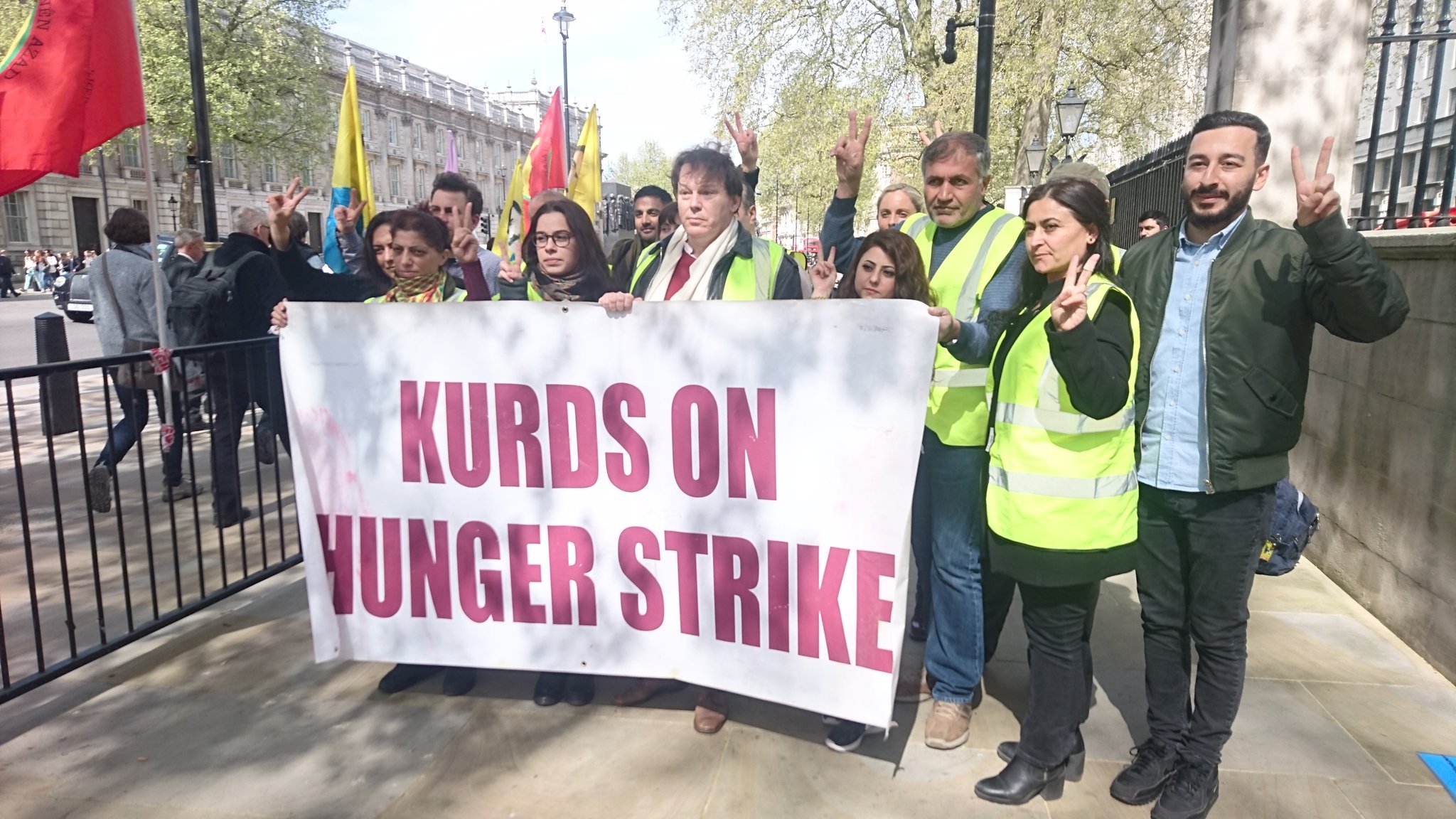 An indefinite hunger strike by over a hundred Kurdish prisoners in nine prisons across Turkey enters a serious phase with some of the hunger strikers entering their 56th day today.
Human rights groups say that 13 prisoners in Şakran prison who initiated the hunger strike are in a critical condition and it is very likely that they will develop serious health problems, even if the strike ends today.
However, as of now there is no sign of an end for it. The hunger strike revolves around the demand that prison conditions of political prisoners should be improved, the incommunicado detention of imprisoned leader of the Kurdistan Workers Party (PKK) Abdullah Öcalan should be abolished and repression of Kurds, including unfair and arbitrary detentions and prosecutions should end. The hunger strikers refuse any solid food and survive on salted or sweetened water and vitamins.
While the condition of the initial hunger strikers is deteriorating, the number of hunger strikers increase to draw attention to those who are in critical condition. According to the reports, 21 prisoners in Bandırma prison started indefinite hunger strike today. Imprisoned People's Democratic Party (HDP) MPs have also joined the hunger strike. The government and the Ministry of Justice have made no statement and have taken no action on the issue so far.  
Called by Kurdish Assembly UK, Kurdistan National Congress, Roj Women's Assembly, Kurdish Youth Assembly and Kurdistan Solidarity Campaign.
For more information please email: kurdistansolidarity@gmail.com Twitter: @KurdsCampaign Facebook: facebook.com/KurdistanSolidarityCampaign