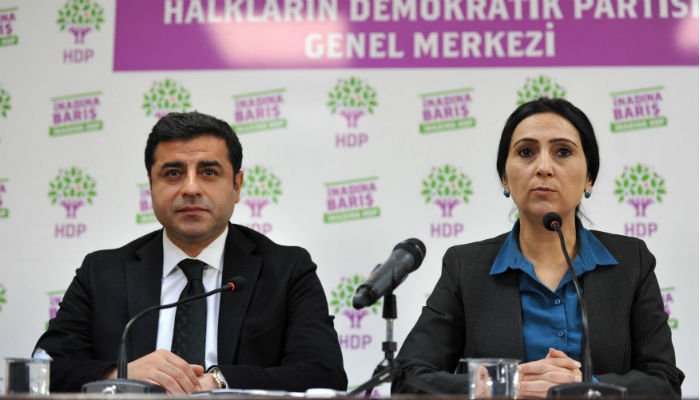 You are cordially invited to a Centre for Kurdish Progress Event with the Members of the International Delegation who observed the trials of Peoples' Democratic Party (HDP) Co-Chairs Selahattin Demirtas and Figen Yuksekdag on 6th and 7th December 2017 in Ankara.
The event will take place between 5:30PM and 7:30PM on Tuesday 30th January 2018 in The Grand Committee Room, House of Commons. Please note security checks are required to enter the House of Commons. We kindly ask you to arrive at 5:15PM to allow the event to start and end on time.
This event will be kindly hosted and chaired by Dan Carden, Labour MP for Liverpool, Walton.
Delegates who will join the panel are Lord Glasman; Lord Watts; Paul Maskey, Sinn Fein MP for Belfast West; Dennis McNulty, Branch Secretary GMB London; Simon Dubbins, Director of International Office Unite the Union; Unmesh Desai, London Assembly Member; Jennette Arnold OBE, London Assembly Member; Steve Sweeney, journalist and Margaret Owen, Patron of Peace in Kurdistan Campaign and human rights barrister (TBC).
Figen Yuksekdag and Selahattin Demirtas, Co-chairs of the HDP were tried in separate courts in Ankara on 6th and 7th December. Yuksekdag and Demirtas face a range of charges accusing them of inciting violence and making propaganda for a terrorist organisation. They are among 13 HDP MPs who have been jailed in Turkey since the 15 July 2016 failed coup attempt. 90 co-mayors of mainly Kurdish towns and cities in Turkey have also been jailed on terrorism-related charges. All of the accused deny the charges.
The members of the international delegation was denied access to the hearings that took place on 6th and 7th December. The delegation released a statement that their denial of the right to watch the hearings was arbitrary, which is damaging to protection of the basic principles of the rule of law.
Please click RSVP to attend this public forum.
When:
January 30, 2018 at 5:30pm – 7:30pm
Where:
The Grand Committee Room, House of Commons
London SW1A 0AA
United Kingdom
Google map and directions