London: 17 December Mass Protest
December 17, 2022 @ 16:00

-

19:00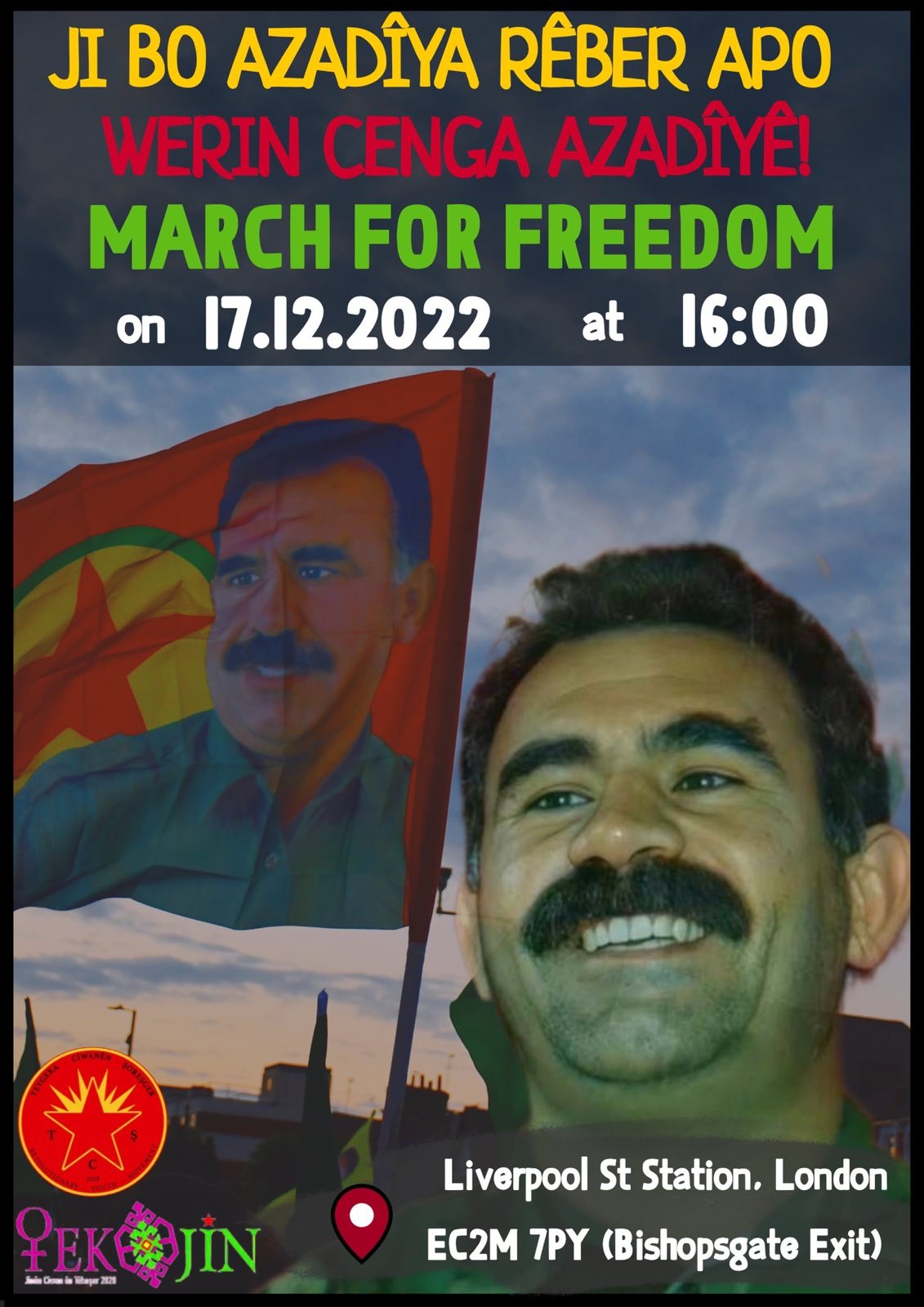 Mass demonstration to Defend Kurdistan and for the Freedom of Abdullah Ocalan

Saturday 17th December
4pm, Liverpool Street Station
WE MARCH!
The Kurdistan freedom movement has entered its 45th year of struggle. It does not bow down to chemical weapons and the many savage war crimes of the Turkey state. The spirit of the guerrilla and the revolutionary people of Kurdistan who have defended themselves against the reality of war and Turkish fascism for decades continues to grow and flourish.
While the people of Kurdistan are bombed and killed, the European Committee for the Prevention of Torture (CPT) neglects its responsibility of giving any information about its most recent visit to Imrali, the prison where the Leader Abdullah Öcalan has been held in conditions of aggravated isolation for nearly 24 years, despite all kinds of disciplinary penalties and international condemnation. In the face of torture Öcalan continues to embody the spirit of resistance and lead the movement, both now and throughout his incarceration. The isolation and silencing of Abdullah Öcalan, is a manifestation of the isolation and silencing of the entire Kurdish people. The failure of the CPT to comment or investigate Öcalan's wellbeing reflects the complicity and consent of the European states in the fascist genocidal policy of the Turkish state and the suffering of the Kurdish people. Once again the revolutionary Kurdish people and all oppressed peoples who follow and are inspired by the movement and its leadership should give a voice to Leader Abdullah Öcalan wherever they are.
We call on young women and youth, women, our revolutionary people, revolutionary, democratic and progressive forces to the march to central London, which we will hold simultaneously with protests in wider Europe, demanding the Freedom of Abdullah Öcalan together.
17 Decemeber 2022
16:00
Liverpool St Station, London, EC2M 7PY (Bishopsgate Exit)
Called by:
Struggling Young Women (TekoJIN) & Revolutionary Youth Movement (TCŞ)