A Conversation with the Mesopotamian Ecology Movement
June 23, 2022 @ 19:00

-

21:00

Free – £50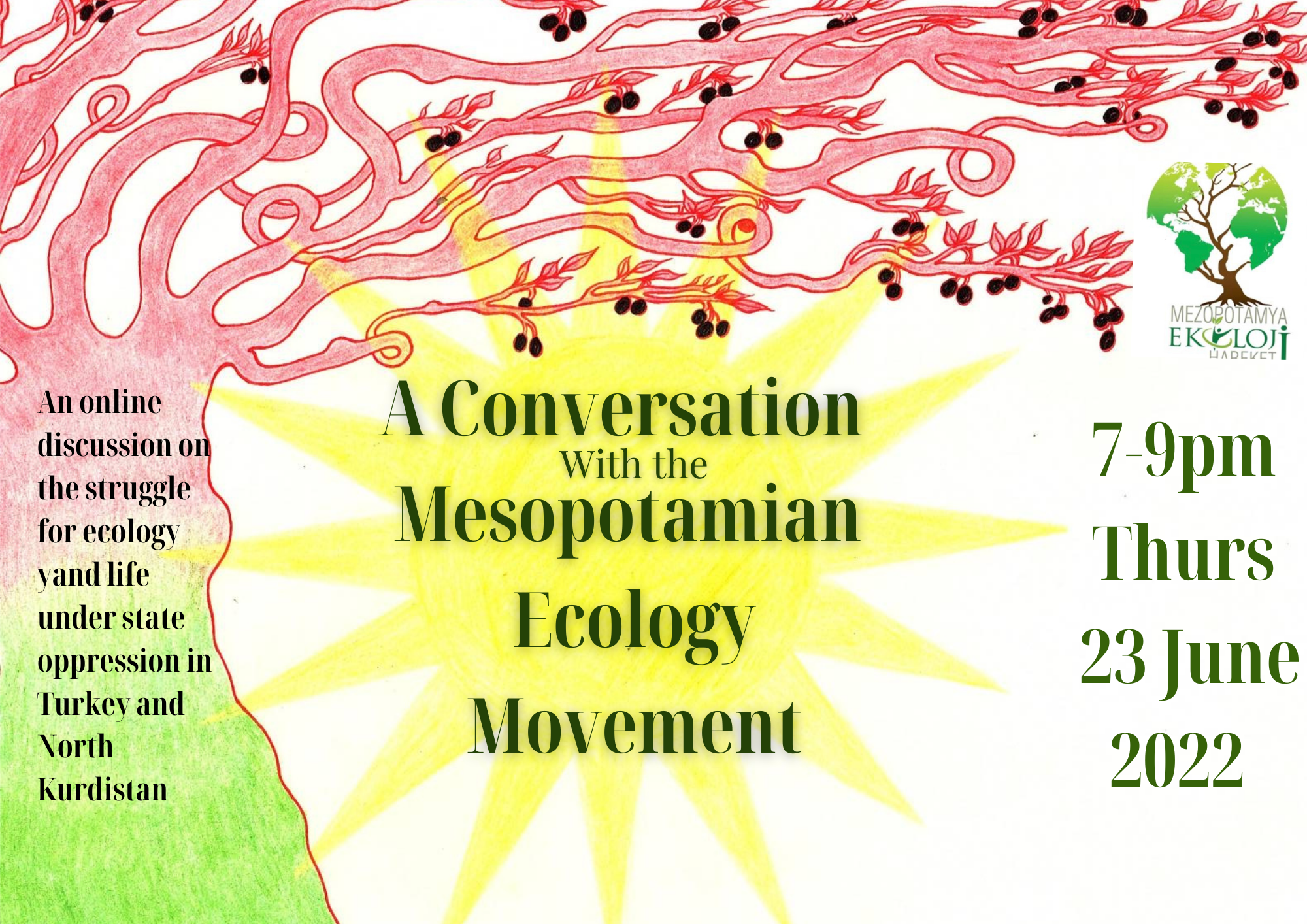 A discussion on the struggle for ecology and life under state oppression in Turkey and North Kurdistan
Join Kurdistan Solidarity Network for a conversation with the Mesopotamian Ecology Movement (MEM), a network of grass-roots organisations in Turkey and North Kurdistan focusing on ecological work with a radical vision for a better society.
MEM are active on many fronts, organising in a context of economic crisis, conflict, climate change and state oppression in Turkey. They are both struggling to protect nature and communities from state-sponsored megaprojects, such as mining and dams, which displace the population and destroy the ecosystem, and also working to create living, breathing alternatives through their democratic organising model, tree planting initiatives and co-operatives.
Rather than seeing ecology as separate from politics, the group imagines a radical reorganisation of society in order to ensure the protection of nature. MEM's vision of a radically democratic, confederal politics is based on pluralism and social ecology, where people and human societies are a part of nature. They envision a communal economy based on gender liberation that moves beyond scarcity and hierarchy, toward a world that re-harmonises human communities with the natural world, while celebrating diversity, creativity, and freedom. And in doing so, protects not just nature but also the rights of women, all the peoples, cultures and languages of the region, and of humanity as a whole from war, alienation and dis-empowerment.
KSN will join the Mesopotamian Ecology Movement for a two hour online discussion about their work, vision, and the context of war, fascism and severe state repression they are organising in. Ticket sales will support our work with MEM.
When we collectively organise with a radical vision for a better world, we have the power to make real change. And as states respond with violence, our solidarity and our struggles must be international to succeed.
—
Read more about the Mesopotamian Ecology Movement here.