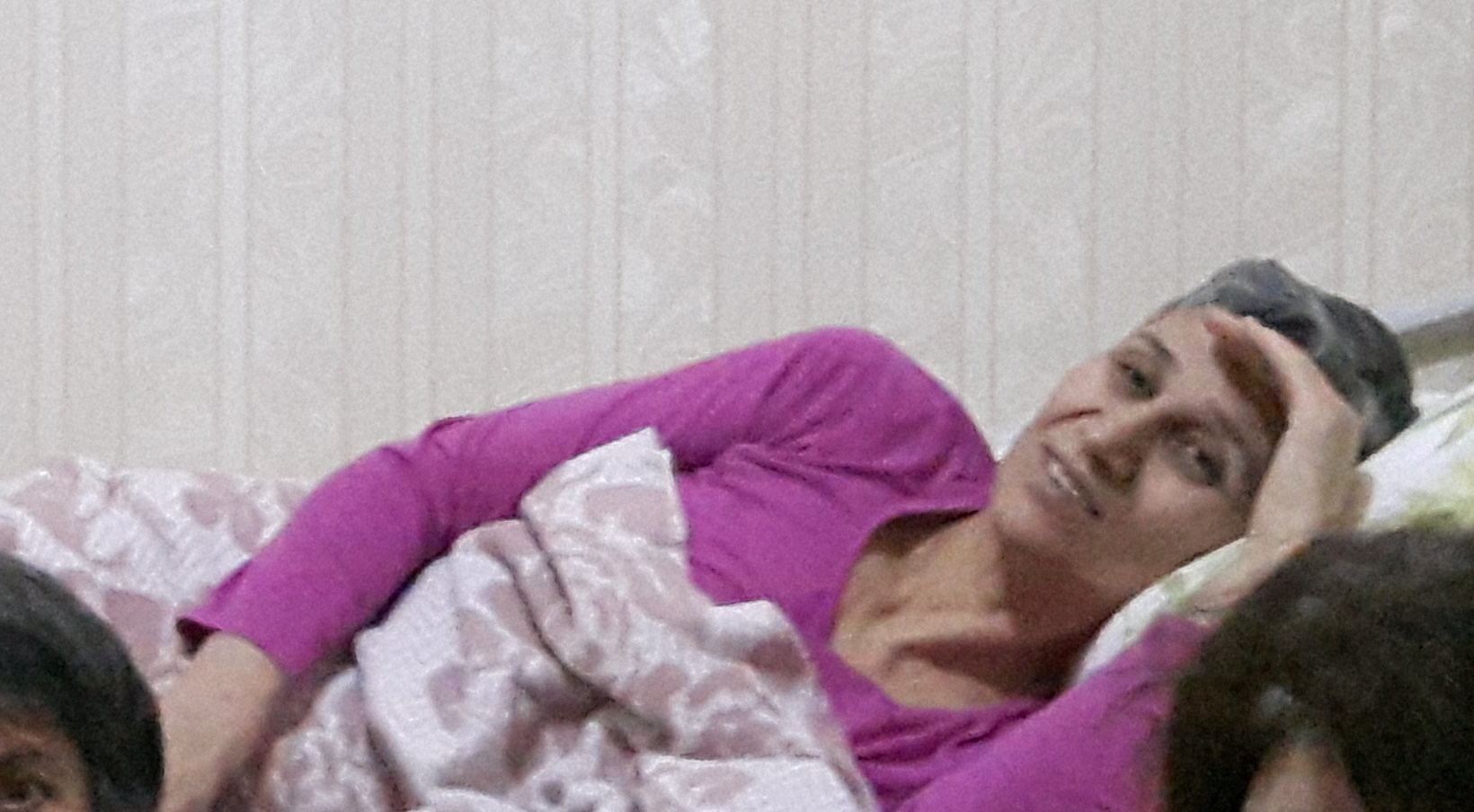 We met Leyla this week, on the 145th day of her hunger strike. Imagine 145 days without food: it is unbelievable that someone can live for so long. But it is, of course, Leyla's strength that continues to inspire people.
Nothing could prepare us for meeting Leyla. We were told that she was having a bad day. But walking into her dark room and seeing her in bed, so critically sick, we were all lost for words. She gave us a lovely smile and thanked us profusely for coming, for our solidarity. But that's all she could manage. Her daughter explained that today Leyla was unable to drink fluids or take vitamin B1, which she vitally needs.
Her friends turned on the lights briefly for us to have a photo with Leyla. We felt bad – it felt opportunistic, somehow. But we didn't have the Kurdish or Turkish language skills to explain this, and the light was bad for Leyla. So we quickly sat around her for a photo.
Leyla was born in Konya in 1964. She is an MP, co-Chair of the DTK, and a member of the Free Women Assembly. The Raise Your Voice For Leyla Initiative gives a summary of her political life:
"In 2004, she was elected Mayor of Küçükdikili, Adana. In 2009, she was elected Mayor of Viranşehir, Urfa. She was arrested when she was a member of the Congress of Local and Regional Authorities of the Council of Europe and she was imprisoned for five years. In 7 June 2015 she was elected as MP for Riha (Urfa).
In January 2018 she was arrested and subsequently detained on the basis of her speech during which she criticised the attack by the AKP/MHP government on Afrin. In the parliamentary elections of the 24th of June 2018, she was elected an MP for Colamêrg (Hakkari) by obtaining 71% of city's votes. She went on indefinite, non-alternating hunger strike in 8 November 2018."
Since Leyla went on hunger strike, thousands of others have followed suit, protesting the solitary confinement of Kurdish leader Abdullah Öcalan. The majority of the hunger strikers are locked up in Turkish prisons. Leyla's daughter, Sabiha, told us:
"The situation for the prisoners is not good. They are kept in isolation: this is another form of torture. They're not allowed to communicate with friends. They're allowed to take their vitamins but the prison guards are making them go to a prison hospital rather than giving it to them directly."
Sabiha talked about the young people who have recently taken their own lives in protest at Öcalan's isolation. Six people had committed suicide when we visited the house. And Leyla was worried that the numbers would rise. She was correct: a day after our visit, Siraç Yüksek also took his life. She told us that her mother feels responsible. "My mother started the hunger strike to prevent deaths. Her motivation decreases when she hears news of these deaths."
We asked Sabiha how her mother felt about the election results. She said that Leyla thought they could have been better, but that it was a great defeat: that the AKP had lost in the key big cities. She said that they are hopeful that now that the elections have passed, Erdoğan might lift Öcalan's isolation. She said that he wouldn't have wanted to do it before the election, as the AKP might have lost votes.
We wanted to ask Sabiha how she was feeling, but we ran out of time. It's hard to imagine being in her place, watching her mother gradually fade away.
We were all lost for words when we left the house. We felt privileged to have met Leyla, but helpless. Police were waiting for us as we stepped outside, immediately taking our photos. This was the tenth time in 24 hours that we were monitored by the police. "They want your passport details," Feleknas Uca, MP for Batman, told us. "But I told them they're not getting them."
The police watched us as we drove away. We thought about Leyla, about Sabiha, about the other hunger strikers. Leyla only has days to live. There is barely any time left.
Take action
Kurdish people are calling on you to urgently write to your MP.
Urgently contact the Committee for the Prevention of Torture. Kurdish people are asking that the CPT visit Öcalan in prison and to speak out against his solitary confinement.