ANF, Tuesday, 4 July 2017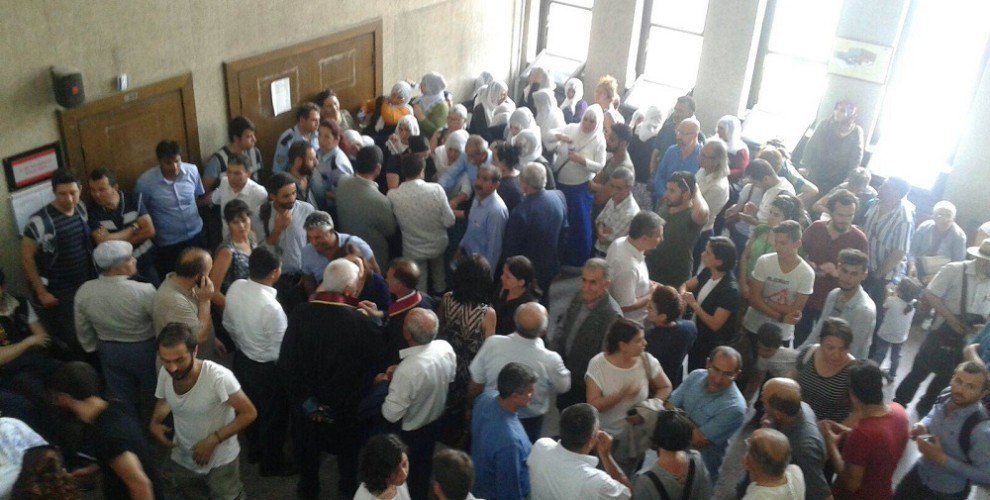 The first hearing of the main case of Figen Yüksekdağ has begun at Ankara 16th Heavy Penal Court. Yüksekdağ was met with slogans in the hearing room.
Yüksekdağ, former Co-chair of the Peoples' Democratic Party (HDP) is appearing at court for the first time since her arrest in Ankara on 4 November, 2016. 30 to 83 year prison sentence is sought for Yüksekdağ whose membership in the party and parliament was revoked after her imprisonment.
The former HDP co-chair, who is taken to court 242 days after her arrest, is attending the hearing in person after she refused attendance over video conference system SEGBİS.
Yüksekdağ was met with "Jin jiyan azadi" [Women, Life, Freedom] and "Figen Yüksekdağ is our honour" slogans as she entered the hearing room.
Dozens of lawyers are attending the hearing, in addition to HDP Co-chair Serpil Kemalbay who was recently elected in her place and deputies from the HDP.
A number of policemen are deployed in the hearing room and the court hallways.
The international delegation that came to Ankara to observe the hearing were not allowed into the hearing room "because they did not receive permission from Interior Ministry".
Read more: https://anfenglish.com/news/international-delegation-denied-attendance-in-yueksekdag-s-hearing-20793