Statement from women organised with Kurdistan Solidarity Cymru
On the occasion of the 8th anniversary of the revolution in Rojava being celebrated on the weekend of 19-19th July 2020.
Women's uprising against power structures has been crucial for revolutions of past and present. Only the revolutions that are spearheaded by the need for the emancipation of women and their participation and leadership in the life of the community are destined for both social triumph and the most bloody confrontation, since no state or power structure would bear to be overthrown by women.
The Kurdish revolution and specifically the Rojava experience is one of the most important revolutions of the 21st century, where women are leading the revolution from the front for the community. We celebrate and pay tribute to 8 years of resistance against fascism and patriarchy with a fight that is an example for the world, for feminist struggles and for any revolutionary struggle, since not all revolutionary movements are committed to women's leadership.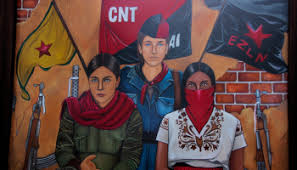 However, we must not overlook the trajectory and example of other revolutions that women have and have had at the forefront.  The Spanish social revolution of the 1930s counted on the outstanding association of Mujeres Libres, a group of brilliant women and advanced even for the anarchist movement in which they had to confront the patriarchy of their time defending reproductive rights, sexual education, and the protection of sex workers.
Later, in the 1980s, Nicaraguan feminists faced Samos fascism during the Sandinista popular revolution.  They had to face the Sandinista revolution itself where many believed that they were dividing the revolution and being disloyal to the movement, but the women's struggle was crucial to democratize the revolution itself: to carry out self-defense, go out into the public space, talk about violence towards women and reproductive rights was a dogged struggle from the start.
A last mention to the women of the Zapatista revolution who have been key to the transformation of the Zapatista movement and the defense of the rights of indigenous women through the revolutionary laws of women.  They defended in battalions the liberation of the lands dominated by what they call – with deliberate simplicity – "the bad government" of the territory of Chiapas in Mexico.
Much can be learned from these revolutionary movements and from the need to have women at the forefront of the struggle. From urban and western feminism, it is essential that we defend international solidarity between peoples, learning from the defense of the collective enjoyment of rights, with a concept of community that leads us to authentic social transformation, while also respecting the self-determination of peoples and their right to define themselves from different cultures, traditions and forms of expression.
Their fight is our inspiration, our inspiration is their hope.
No pasarán.